Mercy Street Season 2, Episode 4 GIF Recap
Last Updated by
Catch up on Episode 4, Southern Mercy, with an episode recap. Warning: Spoilers ahead.
The war carries on. Now down their head nurse, the Mansion House staff continue to confront both professional and personal battles within the hospital. A budding romance (or two!) and an intense scene on the battlefield only highlight a small but exciting portion of this week's action-packed episode. Get ready for Southern Mercy.
1. Dr. Hale Has No Chill
As his medical exam draws near, Dr. Hale begins to feel the heat from Major McBurney and worries that he might lose his job. Looking for someone to console him, he turns to his dear Nurse Hastings (because it's not like she's extremely busy taking care of patients or anything). However, she too has experienced a career change of her own, now that an ailing Nurse Phinney is in Boston, and she has the opportunity to move up as head nurse. Delivering a reality check with a side of burn, she reminds him that he's not the only one under pressure.
2. Who is Private Aimes?
In another wing of the hospital, two Union soldiers arrive seeking help from Dr. Foster. The curiously young looking one of the pair, Private Aimes, demands that Jed treat his ill comrade, Danny, despite the already-long list of soldiers who need tending to. With a healthy amount of bickering and guilt-tripping, the soldier eventually gets his way.
3. Peachgate
Meanwhile, Anne is left to deal with a McBurney crisis of utmost importance: peach tarts. Never mind that Hale might fail his exam and get kicked out of the hospital, there are baked goods at stake here. In a bit of a mood, McBurney takes issue with two tarts he has received from the kitchen that don't have equal numbers of peach slices in them — because if anything needs saving around here, it's definitely peach tarts. However, as he notes to Anne, "Today, peaches; tomorrow, vital, life-saving medical supplies," so maybe he's onto something.
4. Miss C
Though she's still caring for her smallpox patients, Charlotte Jenkins has finally started her school for contrabands and begun helping them transition into their new lives as free citizens. Although Samuel Diggs was born free, Charlotte presents him as role model for her pupils, praising his efforts to become a doctor.
5. "I Prefer Dr. Foster"
In the midst of amputations and heartbreak, Jed carves out just enough time from his busy schedule to check in with his old flame, Lisette. There are references to a coat that Jed left in Lisette's possession long ago, and how Jed has "moved on" to a new coat. With the numerous jabs back and forth, clearly these two have a romantic past. Like anyone who has the joy of running into an ex, their conversation is interesting to say the least.
6. Jimmy's Illegal Business
With a new sense of power in the family, Jimmy, like Alice, begins his own covert work for the Confederacy. He discusses the possibility of using his family's furniture warehouse to conceal an arms smuggling operation with his old friends, Banfield and Larkin, the same ones who beat him up for signing the Oath. Nothing could possibly go wrong, right?
7. Parlor Tricks
Tired of falling asleep with his nose in a book, Hale continues his medical studies by practicing procedures on hospital cadavers with Samuel as his tutor. Though his skills as a surgeon seem indisputable, he has trouble with the medical jargon he's required to know for his test. Sam commends him, admitting that he's learned much of his own knowledge by watching Dr. Hale operate on patients, but Hale explains that what Sam sees are simply "parlor tricks." He says he merely memorizes what he has seen other doctors do.
8. Declan the Shirker
At the open of this week's episode, Matron Brannan is pleasantly surprised by a visit from her beloved son Declan. However, it's soon clear that he isn't just swinging by for some of his mom's home-cooked meals. Instead, Declan has come looking for her in hopes of obtaining a medical deferment from his current regiment to another to avoid ending up on the front lines where he will surely be killed. Hoping to appease him, Matron tells Declan that she will speak with the head nurse about it but ultimately does not, for fear of exposing her son's cowardice (an offense punishable by death) and bringing shame to her family.
9. Emma Takes a Stand (Literally)
Involved in hospital life more than ever, Emma not only insists on accompanying Chaplain Hopkins to the battlefield where Aimes says the Confederate army has overrun his regiment, but also secures the money they need to get a wagon to do so. Emma and Chaplain load a handful of soldiers into their wagon but realize they've missed one who is trapped with a wounded leg in enemy territory. Chaplain, being the good Samaritan that he is, runs out to try to save the injured man but is held up by gunfire. Knowing that the two won't make it back to Union lines without cover, Emma bravely climbs atop the barricade and stands her ground to stop the shooting. After all, it would simply be impolite to fire at a lady.
10. The Truth About Private Aimes
During a private conversation with Lisette, Jed makes a remark about Aimes and Danny being "deviants," which results in a progressive response from Lisette that their homosexual relationship isn't a crime. Yet when another soldier later witnesses Aimes kissing Danny (only a minute after he falls asleep, by the way, which isn't risky at all), Jed believes his suspicions have been confirmed. Lisette, who, by the nature of her profession, is far more observant, informs a clueless Jed that — plot twist! — Aimes is actually a woman.
11. A Fight Breaks Out
After Chaplain and Emma's rescue mission (quite the first date!), the two share a moonlight kiss on their way home. Unfortunately, the romantic moment doesn't last long, because a Confederate soldier bursts through the trees and begins shooting at them. A switch flips, and Chaplain goes into beast mode, joining his opponent in the water to engage in some in hand-to-hand combat. Perhaps overtaken by the moment, Chaplain goes a little too far with his defenses and, to his own horror, ends up drowning the soldier. What a mood killer.
12. Alice's List
Despite everything she's put her family through, Alice continues to dig herself into holes deeper than the one Captain Van Der Berg is in (too soon?). While accompanying her father to the capital, she slips away to pick up a secret message from one of the Knights of the Golden Circle (sneaky, sneaky). When questioned by a Union checkpoint guard on their way back home, Alice turns her charm on and prevents the search of her handbag by coyly referring to a woman's biology and "personal effects of a hygienic nature" that she wouldn't want him to see. No fool, James Green later demands to see inside Alice's bag and discovers a confidential hit list. Alice tries to defend herself explaining that she is doing her duty to help the South until her father fires back with the news that Jimmy's name is on the list. Ruh roh.
13. Danny
Once Lisette and Jed confirm the truth about Aimes' identity, Lisette encourages her to disclose who she really is and how she really feels (hopelessly in love) to Danny, urging that he will accept her. Magically transformed with a dress and a little hair-combing, Aimes cautiously approaches a now-conscious Danny, who greets her with, "I know you ain't a nurse. They don't make 'em that pretty." Seeing a glimmer of hope, Aimes hands him a portrait that Lisette has sketched of the two soldier BFFs. She goes on to tell him that she is "Aimes," and the two share an awkward Shang-meets-Mulan sort of moment. Feeling betrayed, Danny dramatically tears the drawing in half, solidifying the heartbreaking rejection. Thanks a lot, Lisette.
Season 2 airs January 22 - March 5, 2017 8/7c on PBS. #MercyStreetPBS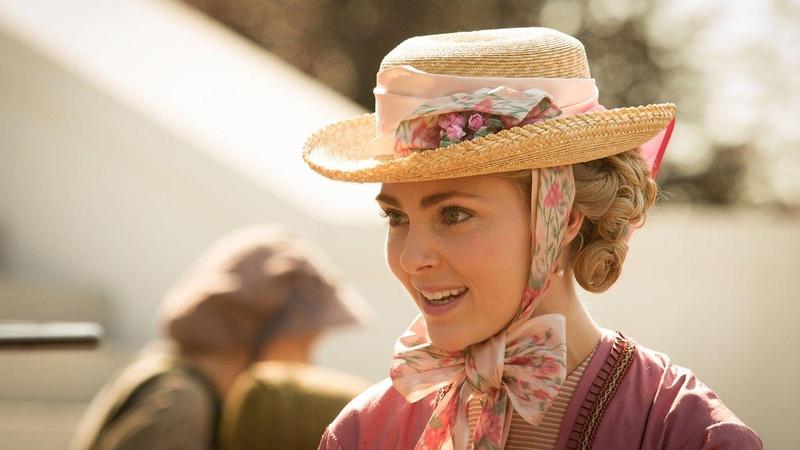 Dive into Season 2: Episode 4 with our exclusive photo gallery.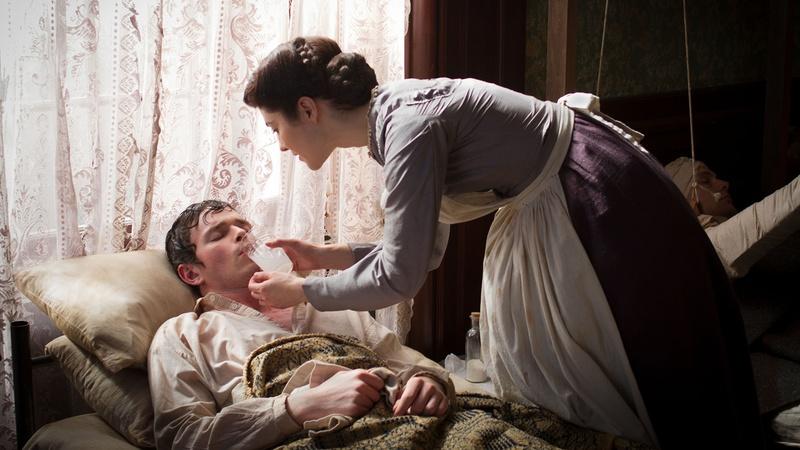 Read the true stories behind the nurses of Mansion House Hospital.